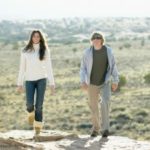 When you're visiting an area as unique as Santa Fe, New Mexico, you'll want to learn all about it. One of our favorite ways to do so is by embarking on some Santa Fe walking tours! Many of these excursions will give you insight into the city that you wouldn't be able to learn anywhere else. If you're interested in taking a tour, here are some of our favorites
If you're looking for more informative activities like Santa Fe walking tours, take a look at our complimentary Vacation Guide. We realize that planning a trip can be challenging, so we created our free guide to save you from hours of research. In it, you'll find the best restaurants, outdoor activities, popular events, and more! This free guide has saved countless travelers from hours of research, so get your copy today!
3 of the Best Santa Fe Walking Tours
Santa Fe Detours
Embark on a 2.5-hour leisurely stroll through the city with Santa Fe Detours! History and culture will come alive as you take in the surrounding 400 years of the past. Start at the Historic Plaza, then meander through narrow streets toward the Old Santa Fe Trail. On the way, you will visit historic sites such as the Sena Plaza and Barrio de Analco. You will also get to catch a glimpse of the San Miguel Mission, the oldest church in the United States! These Santa Fe walking tours run daily at 9:30 a.m. and 1:30 p.m. for just $10 a person.
Historic Walks of Santa Fe
If you're looking for historic walking tours, try Historic Walks of Santa Fe! Learn about the past as you stroll down Canyon Road; you will wander through old homes, studios, and shops and end with refreshments at one of the premier galleries. Or, you can opt for the downtown daily tour that will include entry to Loretto Chapel. You can even go on a ghost walking tour if you'd like to learn about the legendary folk tales of the Pueblos, Spanish, and Wild Wild West! Ghostly encounters have occurred before.
Self-Guided Tours
If you'd rather explore Santa Fe on your own, there are plenty of self-guided tours you can enjoy! Here are a few of our favorites:
Literary Landmarks Tour– Follow the map to see some of the areas that have inspired literary geniuses such as novelist Willa Cather, author Mary Austin, poet Witter Bynner and British novelist D.H. Lawrence.
The Santa Fe Margarita Trail– Are you a margarita fan? Purchase a Margarita Trail Passport for just $3 or download the app, then follow the map to try the best margaritas Santa Fe has to offer! You'll get to win prizes and discounts along the way.
Green Chile Cheeseburger Tour– Every year, a list of the best restaurants serving the city's famous green chile cheeseburgers are released. It's up to you to try them all and choose your favorite! Then, you can vote for the People's Choice Award
After Your Santa Fe Walking Tour
After enjoying these Santa Fe walking tours, head back to relax at El Farolito. Continue to enjoy the charm of our city with our Southwestern-inspired accommodations! Each of our rooms is outfitted with local art, adobe walls, Kiva fireplaces, and more. Plus, you get to wake up each morning to a delicious breakfast to start your day off right! Book your getaway today.