You need to escape the routines of everyday life every once in a while. After months of sitting out home, it's about time you got out of the house. If you don't want to travel too far, a staycation in Santa Fe may be just what you need! Whether you're in Albuquerque or our beautiful northern region, your next getaway is closer than you think. 
For more things to do and places to see during your Santa Fe adventure, be sure to request access to our complimentary Vacation Guide! 
5 Santa Fe Staycation Ideas
Get a History Lesson
You must spend at least a day of your staycation in Santa Fe, exploring the astonishing array of architecture, attractions, and sights here. The Santa Fe Plaza, Palace of the Governors, and Loretto Chapel are just a few of the must-see attractions during the morning. You can easily spend an entire day perusing the many buildings featuring the famous adobe-style architecture that is now a calling card of Santa Fe. We suggest keeping an eye out for a couple of hidden gems around town before walking back to your room at our Inn. 
Take in the Art Scene
Exploring the diverse art scene here is one of the best ideas for your Santa Fe getaway (especially if you love art). With more than 250 galleries around town, it's hard to choose which ones to visit! Canyon Road is the best place to explore some of the top showrooms and galleries in the city, and the art tour is a great way to meet local artists! Let the amazing paintings, ceramics, and other art forms inspire you and teach you about the city. Of course, if you visit during the summer, you won't want to miss out on a performance at the world-class Santa Fe Opera!  
Savor Sante Fe
No Santa Fe staycation is complete without savoring the flavors of our town. Here, you can sample one of our local favorites—the green chile cheeseburger! Hotspots like Tune-Up Cafe and Casa Chimayo serve up tasty local Santa Fe flavors. If you want to treat yourself to a fine dining experience, book a reservation at La Casa Sena or the Coyote Cafe.  
Explore the Great Outdoors
Venture outside of the city limits during your staycation in Santa Fe. With the perfect balance of desert and mountains mixed in with rocks and greenery, there are plenty of unique landscapes to explore. Throw on some sneakers and head to the trails in the Sangre de Cristo Mountains with your special someone. There are also fascinating parks and outdoor areas like Bandelier National Monument, Kasha-Katuwe National Monument, Pecos National Historical Park worth exploring.   
Enjoy a Romantic Santa Fe "Getaway" With Your Special Someone
Your romantic staycation in Santa Fe should be all about you, your special someone, and relaxing together! Our city is home to a collection of fantastic spas that offer a wide variety of experiences and treatments. You can also find a handful of secluded hot springs in the surrounding mountains that are worth checking out if you want to go on an adventure together!  
History, Culture, and Adventure Are Right Around the Corner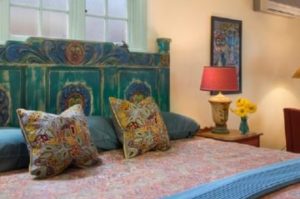 El Farolito Inn is the perfect place to enjoy a romantic getaway with your significant other. Our Santa Fe bed and breakfast has a collection of beautiful rooms that are steps away from the heart of Santa Fe. Wake up to a gourmet breakfast that will have you ready to make the most of your time in our beautiful city. 
Start planning your retreat to the Land of Enchantment by booking one of our rooms. We look forward to welcoming you to our Inn.