Though there are many things to do in downtown Santa Fe, it's well known for its incredible shopping opportunities. From high-end boutiques and an astonishing range of art galleries and art markets to flea markets and consignment stores, there's no shortage of great shopping in downtown Santa Fe. What better place to kick off your holiday shopping than here?
To make the most of your holiday shopping experience, you'll want to spend a few days here, as there are way more stores in downtown Santa Fe than you can possibly visit in a day. That's where our incredible Santa Fe Bed and Breakfast comes in. Not only do we offer guests incomparable luxury and welcoming hospitality, but we do it within an easy walk of all the best shopping, attractions, museums, and more in downtown Santa Fe.
The holiday season is truly a magical time to be in Santa Fe and a delightful time to enjoy the top-rated museums and attractions. The busy summer and fall crowds have gone home for the season, leaving far fewer people in town. That means more time to enjoy current museum exhibits and shopping and even to get coveted reservations at the best Santa Fe restaurants. While enjoying all of this, there's no better place to stay in Santa Fe than our #1-rated Bed and Breakfast. Book your room today!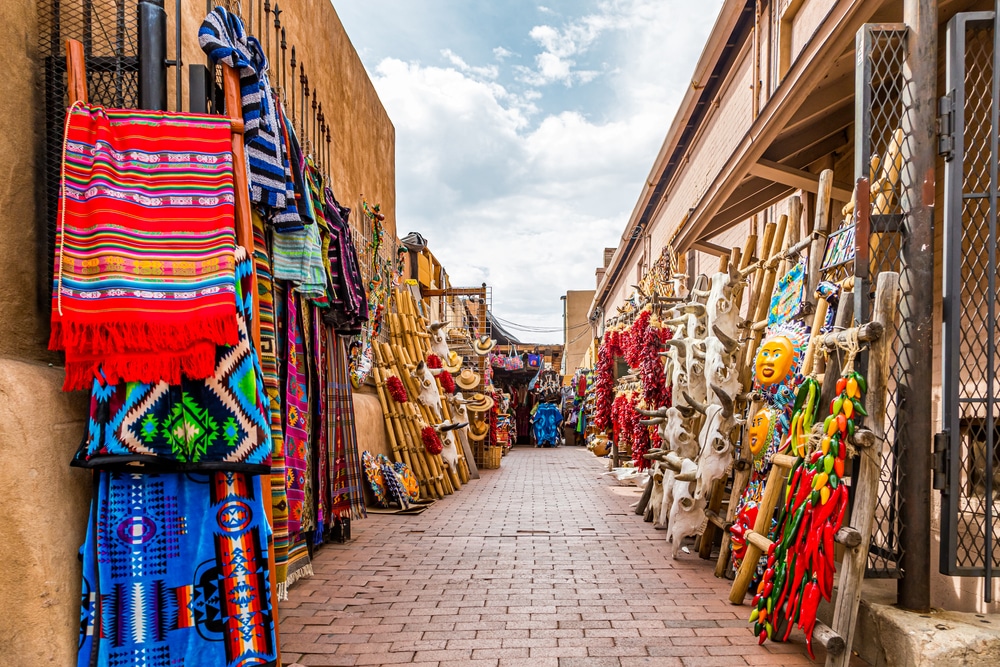 The Best Shopping in Downtown Santa Fe
Downtown Santa Fe truly is a shopper's paradise – but it can be exhausting at first glance, especially if you've never been here! Downtown Sante Fe is bursting with unique and hand-crafted treasures, including those made by native and other local artisans. You will find just about everything here, from fashion and jewelry to fine furniture and all the cowboy/girl gear you need!
USA Today's 10 best publication even named Santa Fe the best shopping destination in the country  – which makes sense when you know about Santa Fe's rich history as a multicultural trading center. Most of the best shopping in downtown Santa Fe is on and around the historic plaza. As a very walkable downtown, it's easy to make your way from our Santa Fe Bed and Breakfast to your top shopping destinations for the day and back again.
Shopping here is a true experience. If you're ready to start your holiday shopping journey in downtown Santa Fe, we've rounded up some of the best spots to pick up what we're sure will be the most coveted gifts of the season. Happy shopping!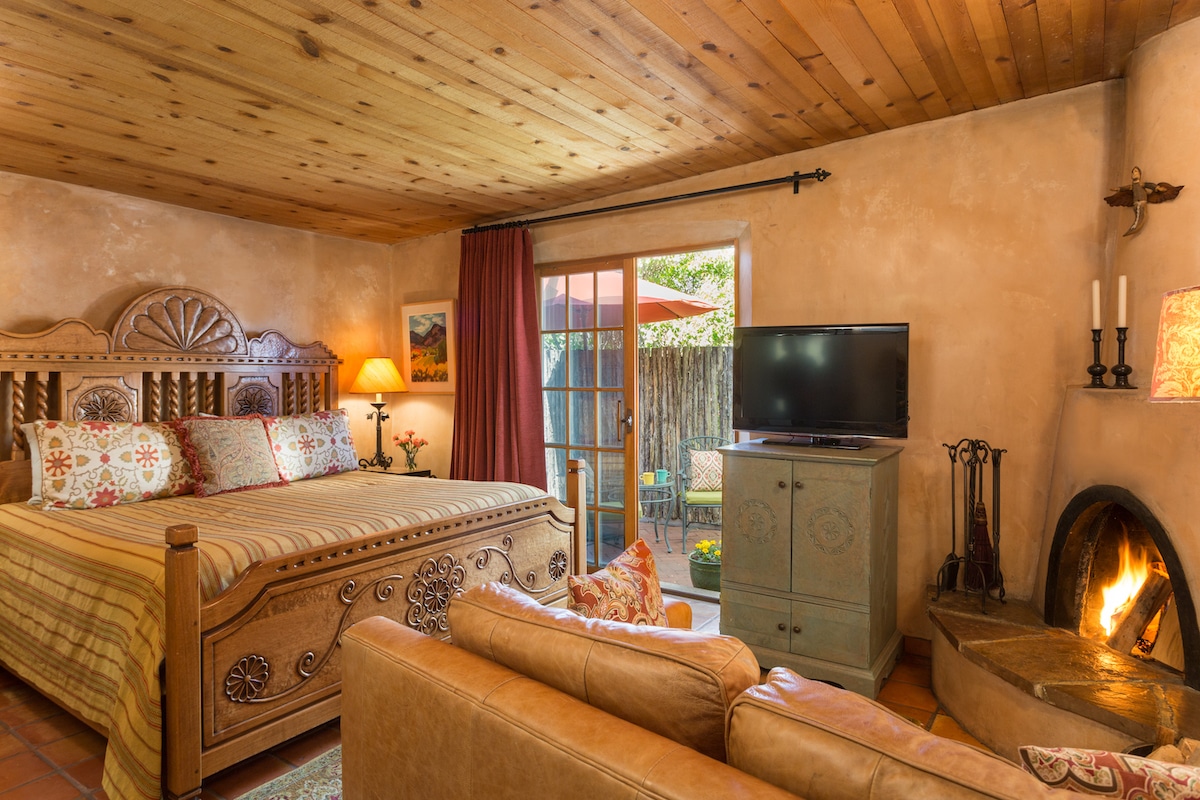 The Best Santa Fe Bed and Breakfast
This holiday season is the best time to shop 'til you drop in downtown Santa Fe – and while you're doing that, make sure to include plenty of rest and relaxation at our Santa Fe Bed and Breakfast. We're located within easy walking distance of downtown Santa Fe and many of the city's top attractions and offer incomparable luxury and hospitality.
Guests have their choice of eight guest rooms, each decorated with authentic Southwestern decor and various fine art pieces, and they are outfitted with a broad range of luxury amenities. In the morning, join us in our beautiful dining room for a delicious, filling 3-course breakfast that will leave you full, satisfied, and ready for another day of shopping in downtown Santa Fe!
In addition to our complimentary breakfast, we offer free on-site parking, in-room Wi-Fi, luxury bath products, and light refreshments in the afternoon, all of which add to the value of staying at our luxurious Bed and Breakfast in Santa Fe. The holidays are fast approaching, so book your room and start planning your shopping adventure today!