Experiencing local culture is one of the top things to do here in the City Different. Whether you tour one of the many museums, browse art galleries, or take a journey through one of the many fantastic restaurants, you'll find plenty of ways to see and taste the unique flare around town. We recommend checking out our list of restaurants featuring Native American food in Santa Fe. Keep reading to discover some of our favorites! 
If you want to discover more great ways to make the most of your trip to the Land of Enchantment, be sure to request access to our complimentary Vacation Guide! It's full of the best restaurants, attractions, and activities in our area! 
The Best 
Native American Food in Santa Fe
When referring to Native American food in Santa Fe, what do we actually mean? Well, throughout the Southwest, these local staples include ingredients such as corn, chiles, beans, wild rice, and blue cornmeal, among others. You will find these commonly paired with proteins like chicken, beef, lamb, and bison. While you will find dishes incorporating these ingredients around Santa Fe, below are a handful of restaurants that prominently feature these Native American flavors. 
The Anasazi Restaurant & Bar
The Anasazi Restaurant & Bar mixes old–world culinary techniques with new and innovative recipes that come together on a fantastic menu. They use local ingredients to craft dishes like tortilla soup, gazpacho, bison tenderloin, and chile-rubbed lamb chops. The relaxed yet elegant ambiance combined with Native American-influenced cuisine makes this a great place to enjoy a date night with your special someone.  
Amaya
Amaya features a bright and vibrant dining atmosphere with a New Mexican flare. Kiva fireplaces, local artwork, and an outdoor patio offer the perfect backdrop to your experience. Their menu is full of New Mexico lamb chops with sweet corn polenta, stuffed poblano chiles, and green chile chicken enchiladas. They even offer private teepee dining experiences! 
The Pantry
If you want to enjoy a casual lunch or dinner, The Pantry is the place to go. This restaurant features New Mexican favorites dashed with some of the freshest Native American food in Santa Fe. From comfort foods to classic enchiladas, you'll find something delicious with a local twist! 
Casa Chimayo
The bright and casual environment of Casa Chimayo provides the perfect backdrop to your Santa Fe dining experience. The combination of fresh, local ingredients, and classic Mexican and Native American flavors makes this a great spot to grab tasty yet simple cuisine. 
Plan Your Santa Fe Culinary Experience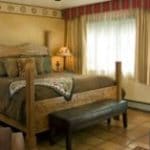 El Farolito Bed & Breakfast Inn offers a one-of-a-kind stay here in Santa Fe. Our beautiful Inn features a collection of Southwestern-inspired rooms, with locally made furnishings and artwork. A complimentary breakfast in our dining room is the perfect way to start your day before heading out to see all that our city has to offer! We are also within walking distance of the Plaza, Canyon Road, the Farmers Market, and more! 
Start planning your trip today by booking one of our rooms. We look forward to welcoming you to the City Different.