Home to unique historical sites, a lively culture, and delicious food, the City Different has something for everyone. Health-conscious individuals will especially enjoy the selection of vegan restaurants in Santa Fe. From small food trucks serving up plant-based comfort foods to cafes specializing in authentic Indian cuisine, there is an array of options that will please everyone in your group. 
For more information on the best things to do and places to see in the area, request access to our complimentary Santa Fe Vacation Guide! 
The Top Vegan Restaurants in Santa Fe
Annapurna's World Vegetarian Café
If you want to taste one of the best vegan restaurants in Santa Fe, look no further than Annapurna's World Vegetarian Café. This small New Mexico chain has one location in the City Different that specializes in Ayurveda vegan organic. A unique variety of flavors and menu items assist patrons in practicing the principles of these ancient Indian healthy living techniques. 
Sweetwater Harvest Kitchen
Sweetwater Harvest Kitchen offers up fresh, organic eats in a bright and modern atmosphere. All-natural breakfast highlights range from smoothie bowls to granolas while lunch bites include soups, green and grain bowls, and special paleo creations. They also have plenty of options for non-vegans and vegetarians! You can make most of their dishes vegetarian, vegan, and gluten-free (each one has a label on the menu), making this one of the best vegan restaurants in Santa Fe. 
Love Yourself Cafe
Love Yourself Café is a health nut's dream come true. Not only is their menu full of delicious breakfast, lunch, and dinner options like superfood oatmeal, vegan burritos, and Thai bowls, but they also have a unique list full of evening drinks. Herbal elixirs, probiotic shots, and teas are just a few of the fun and innovative items you'll want to try. 
ROOT 66 Vegan Cafe
This small, popular Santa Fe vegan hotspot is home to an array of plant-based comfort foods. ROOT 66 Vegan Cafe's mouth-watering burgers are delicious, and you can't beat their unique take on sausage and peppers. You can enjoy their food in two locations—the cafe on Lena Street and a food truck behind the Santa Fe Brewing Company in downtown.  
Apothecary Restaurant
The Apothecary Restaurant is a part of the Santa Fe Oxygen and Healing Bar two blocks from the Santa Fe Plaza. This healthy cafe serves up a variety of fusion-inspired concoctions that you won't find anywhere else. Check out their unique menu before walking over to this restaurant from our Inn. 
Vinaigrette
This hip, small chain vegan restaurant in Santa Fe provides health-conscious options like salads, juices, smoothies, and health shots. Vinaigrette even has tasty non-vegan options like biscuits and gravy and BLTs. It's also only a 10-minute walk from our Inn! 
Book Your Stay at El Farolito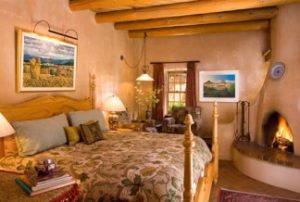 If you want to be close to the heart of Santa Fe, El Farolito Inn is the perfect place for you. Our Inn features authentic Southwestern accommodations that are steps away from Santa Fe Plaza and the historic center of town. We also offer all our guests a complimentary gourmet breakfast every morning of your stay. 
Start planning your Santa Fe getaway today by booking one of our rooms. We look forward to welcoming you to our Northern New Mexico oasis.