The location of the City Different, right near the Santa Fe National Forest and at the foot of the Sangre de Cristo Mountains, makes hiking in Santa Fe a dream. And while the first topics that come to mind when thinking of Santa Fe may be the incredible arts community, diverse shopping, cultural markets, and award-winning restaurants, this city in the heart of New Mexico is an outdoor enthusiast's paradise.
There is a nearly neverending list of places for hiking in Santa Fe, each unique in its own way. Whether you're a beginner searching for a fun and easy outdoor activity or an avid hiker eager to take on your next challenge, we'll profile just a handful of the area's most popular hiking trails you should try during your next visit.
First, you'll want to secure your lodging, and our Santa Fe Bed and Breakfast is the ultimate space to make your base camp. Not only will you be treated to a bountiful and nourishing morning meal before you head out, but our comfortable Inn and welcoming staff will await your return after your Southwest hiking adventures. After a long day hiking in Santa Fe, your cozy guest suite with a traditional Kiva fireplace will be the best place to rest your tired muscles.
Book your room at El Farolito Bed and Breakfast today and start planning your itinerary!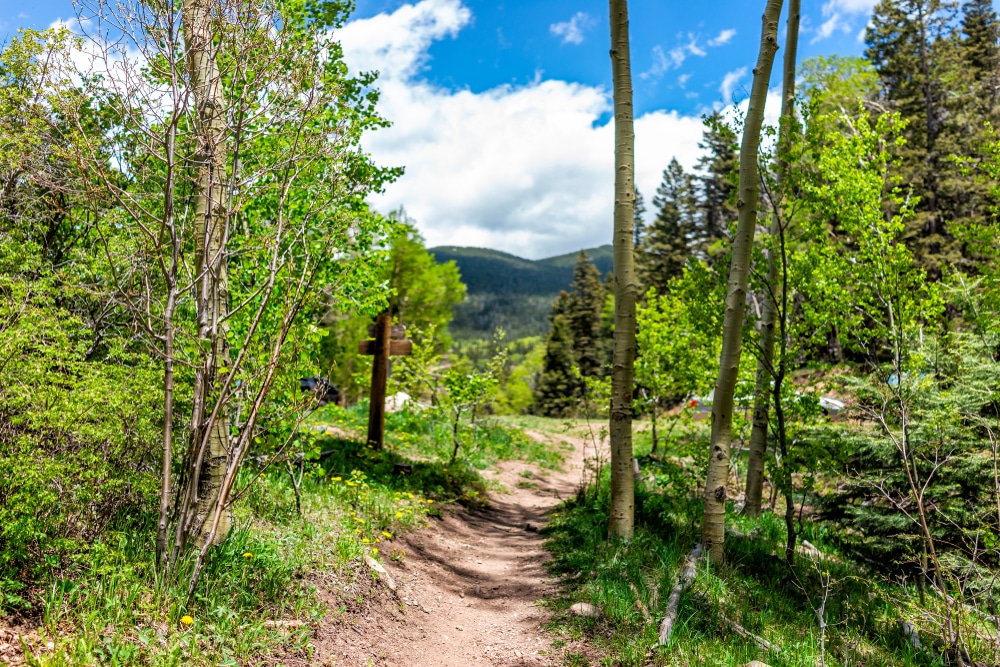 The Best Hiking in Santa Fe: Near Downtown & Beyond
Our Santa Fe Bed and Breakfast is just steps from the historic Plaza in the heart of the city—within minutes, you'll experience the best hiking in Santa Fe from this downtown area. It's a good reminder for anyone planning on hiking in Santa Fe that our city sits at an elevation of 7,199 feet, so make sure you're prepared to exercise at a higher elevation, and bring water and sunscreen.
Atalaya Mountain Trail: This relatively easy 6-mile out and back trail leads you through the lovely aspen forests (especially picturesque in the autumn months.) The journey ends on a mountaintop that boasts a stunning panoramic view. Atalaya Mountain is considered an easy hike and ideal for families on an afternoon excursion. Dogs are also welcome on the trail as long as they are kept on a leash.
Dale Ball Trail System: If you and your loved ones want to spend most of the day hiking in Santa Fe, this trail system has it all, and it's the quickest route into the Sangre de Cristo Mountains from downtown. Consisting of nearly 25 miles of hiking and

 mountain

biking

trails

, you'll embark on an unforgettable trek through some of the most striking landscapes in New Mexico.

These trails vary from easy to difficult, so be sure to plan your route accordingly.
Santa Fe Rail Trail: For those looking for the best place to exercise in the great outdoors, runners will fall in love with this long trail that

starts at the Santa Fe Railyard near the outskirts of downtown.  The path follows the railway south for

a 

15.5-mile point-to-point trail south past Eldorado at Santa Fe. While most people run or walk the first part of the path, it's the perfect place for hiking in Santa Fe for convenient access and a long, uninterrupted jog.
One of the best resources for planning your excursions hiking in Sanat Fe is the comprehensive Trail Guide by the Santa Fa Conservation Trust.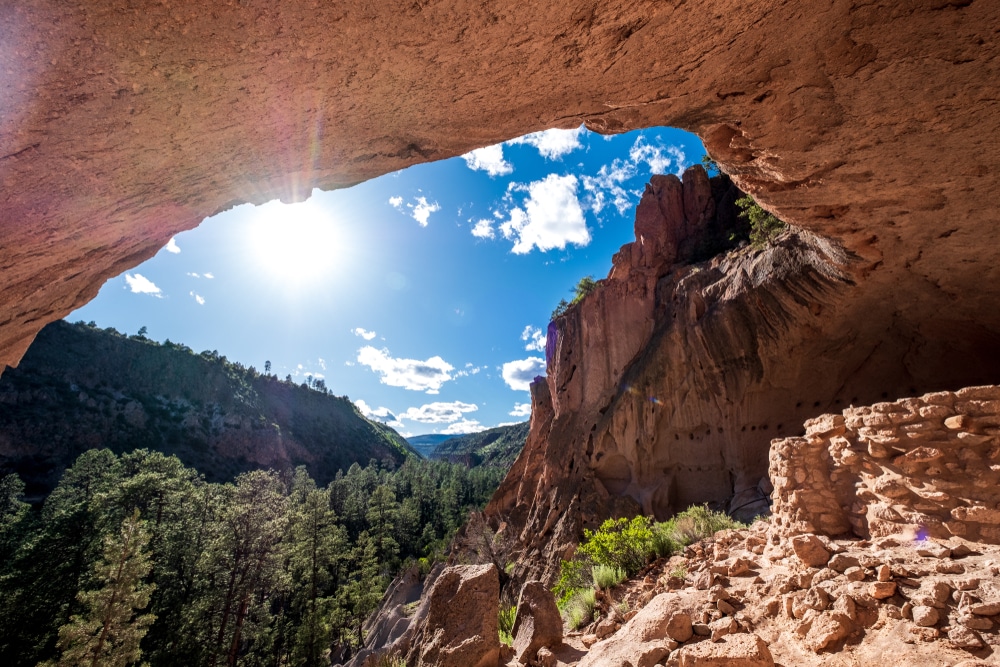 Hiking Trails at Bandelier National Monument:
In just under an hour's drive from downtown Santa Fe, Bandelier National Monument is a 33,000-acre protected area with more than 70 miles of trails and Ancestral Pueblo sites. Some trails are short easy loops, while others can encompass many miles with incredibly steep and rocky switchbacks. The most popular routes are the Main (Pueblo) Loop Trail and Alcove House Trail (pictured above), both accessed from the Frijoles Canyon Visitor's Center. The Main Trail is where hikers can climb wooden ladders into the small carved alcoves and explore the archeological sites.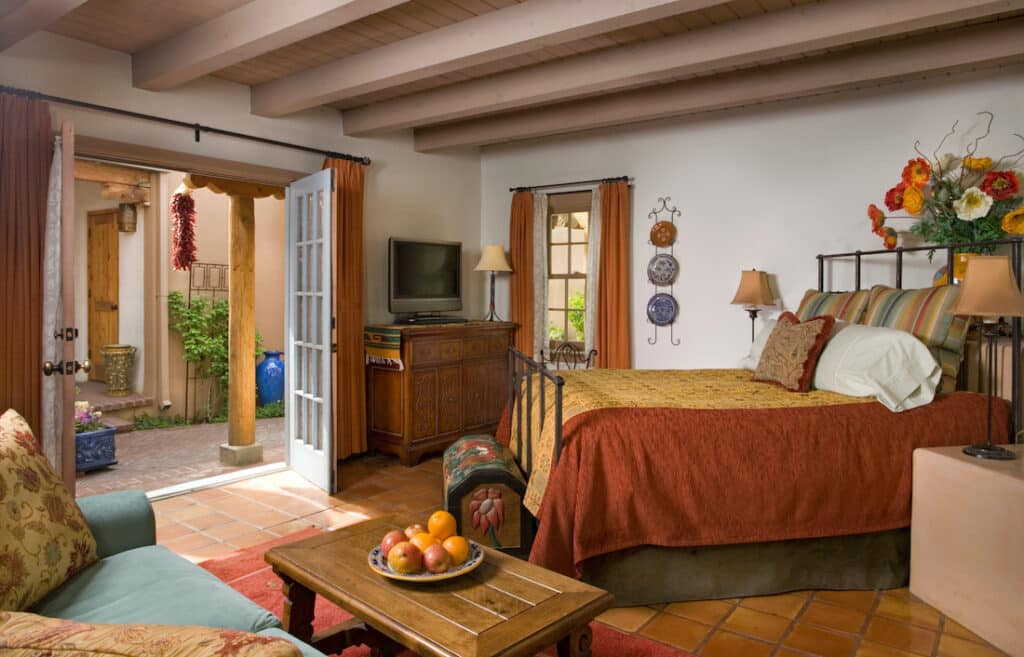 Beautiful Lodging in the Heart of Santa Fe
After a fantastic day hiking in Santa Fe, you'll be pleased to return to our Santa Fe Bed and Breakfast to relax (or collapse, depending on how hard you pushed yourself!) Either way, you'll be able to put your feet up, enjoy a glass of wine, and unwind in our space's quiet and calm atmosphere in the heart of Santa Fe. Over our more than 25 years of Innkeeping, our B&B is constantly recognized by TripAdvisor with the Certificate of Excellence Award—join us and make El Farolito your home away from home.
Check out our upcoming availability and book your next stay today!