When searching for the best places to stay in Santa Fe, look no further than the El Farolito Bed and Breakfast. Our luxury boutique lodging in the heart of Santa Fe is everything you've ever dreamed of for a getaway to New Mexico. Not only will you be minutes away from the bustling and exciting Santa Fe Plaza, but our accommodations will be a highlight of your trip. Staying with us is all part of the beautiful and unique adventure!
As you arrive in our New Mexico Bed and Breakfast, you'll first notice our classic Santa Fe architecture exterior. Enter our front gate and weave your way through our lush grounds under sparkling strings of lights. Around corners and landscaped gardens, you'll find each of our eight casitas and suites nestled in their own private corners of the Inn. You'll see right away why our Bed and Breakfast is one of the best places to stay in Santa Fe for a romantic getaway.
And while we do cater to couples looking for private time, we can also accommodate more extensive family vacations with adjoining or nearby rooms with shared patio space, which are ideal as a gathering area. Every room has its own rich and lively decor, focusing on Southwestern culture and art. See for yourself why we're one of the best places to stay in Santa Fe, and book your next vacation today!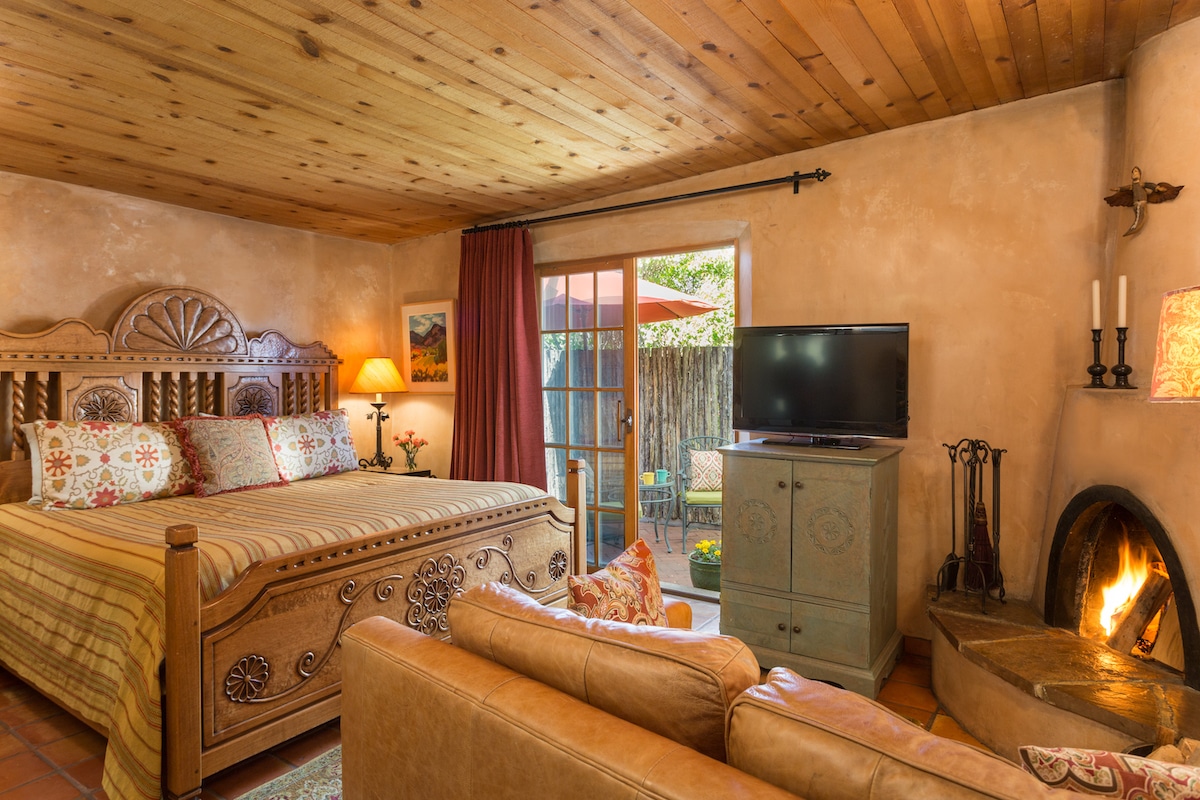 El Farolito: One of the Best Places to Stay in Santa Fe
There are many reasons why we're one of the best places to stay in Santa Fe for your next getaway to New Mexico. And the first reason is Santa Fe itself; our city averages 325 sunny, clear days each year. And while some people worry that Summertime in a desert climate means scorching temperatures—that's not the case! Santa Fe has an elevation of 7,000 feet which keeps the temperature comfortable even in the warmer months.
Our location within the City Different is also a big draw for visitors; we're close on foot to the Santa Fe Plaza, where tourists and locals share the space in the heart of the city. Santa Fe is a place where many cultures come together and form a rich and welcoming environment to celebrate the arts, museums, and talented people that call this area home. From elegant meals out, wine bars, and flavorful casual meals, you can't beat Santa Fe.
Each of our eight suites is one of a kind and private; please make yourself at home here. Cozy up by the wood-burning fireplace or enjoy a night under the stars on your private patio. Every room has modern amenities, including baths with handpainted tile work, flat-screen TVs, Wi-Fi, and beautiful artwork. You'll love your private oasis, and this feeling only adds to our Inn being one of the best places to stay in Santa Fe.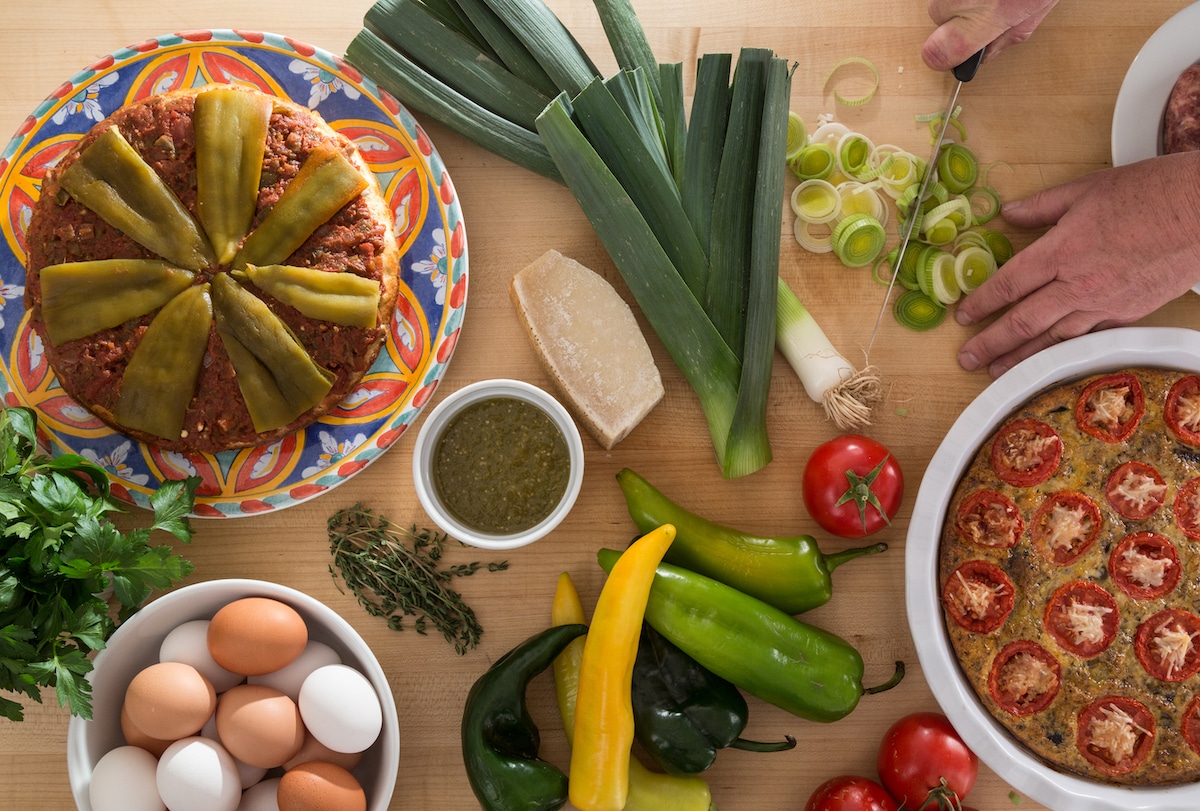 Each morning of your stay, we'll treat you to an authentic and homemade breakfast. We love to incorporate traditional Santa Fe flavors from New Mexican green chiles, local products, and seasonal produce. Our tried and true family recipes are crowd-pleasers, including a hot entrée, fresh fruit, cereals, yogurts, juices, tea, and freshly brewed coffees, as well as a selection of home-baked goods. We're always happy to accommodate dietary restrictions with advance notice.
You'll be welcomed by our impeccable staff and feel like a VIP each morning. Breakfast at the El Farolito B&B is a leading reason why we're one of the best places to stay in Santa Fe!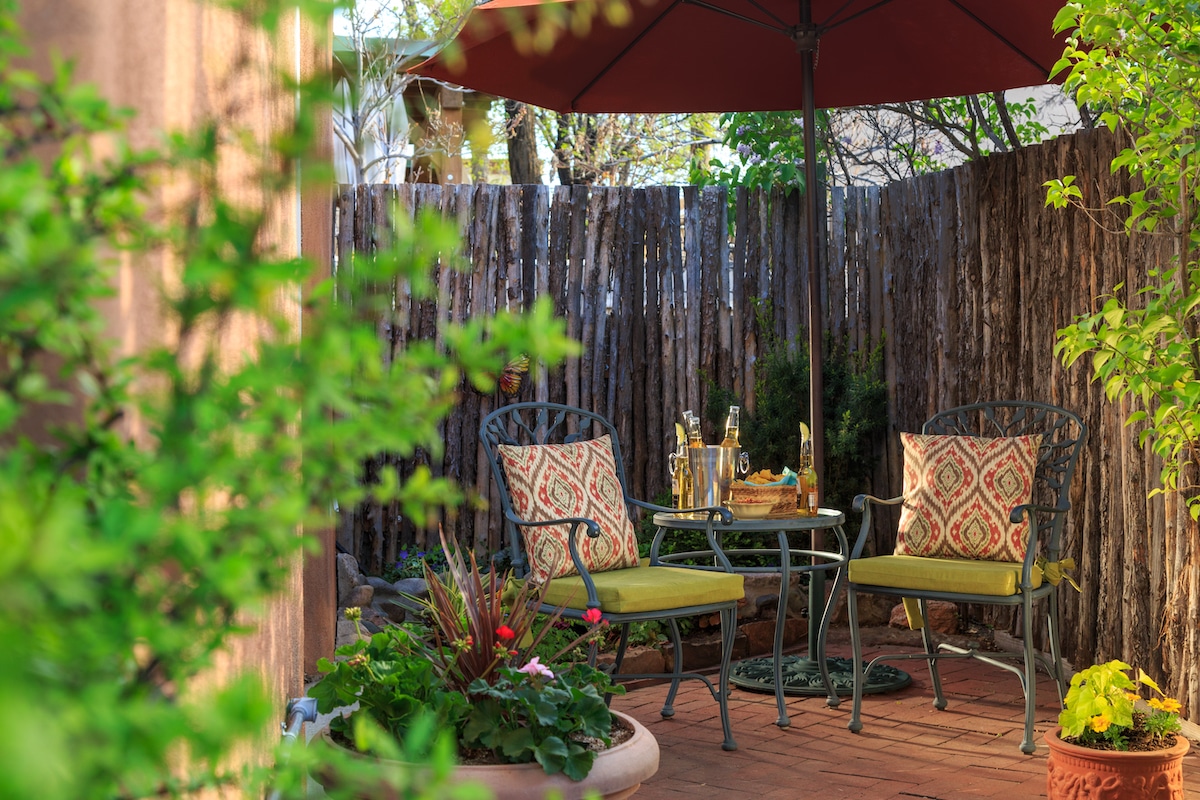 Beautiful Outdoor Spaces for Rest and Relaxation
Our guests often remark about how much they love and appreciate our outdoor space at our B&B. The patio spaces feel private and secluded, with potted plants, vines, and trees creating sun-dappled light. Comfortable padded chairs with pillows sit under colorful umbrellas just awaiting your return. Our Inn is truly one of the best places to stay in Santa Fe for fresh air, soaking up the sun, and enjoying the clear skies of New Mexico.
Start planning your next phenomenal getaway to the Southwest and book your stay today!