The Santa Fe Farmers Market is always on the top of our list for things to do in our charming desert city. In fact, Sunset Magazine voted the Santa Fe Farmers Market as one of the top ten in the US. It's also one of the longest-running and largest growers' markets in the country. One of the main reasons for its success is the program's focus on fully supporting the participants, including more than 150 farmers and producers in 15 Northern New Mexico counties.
As a shopper at the Santa Fe Farmers Market, you can trust that everything is one hundred percent local and from right here in New Mexico. All the vendors are either growers, artists, craftspeople, or producers of what they're selling. This is the epitome of supporting small businesses, and it's a perfect way to connect to the hard-working people of this city.
One of the most common inconveniences we hear about the Santa Fe Farmers Market is the parking situation, but thankfully as a guest at El Farolito Bed and Breakfast, you can leave your car parked here. You'll only be a 10-minute walk to the fresh and dried produce, flowers, and arts & crafts of the market. After you've explored the open-air stalls and indoor vendors, head on back to your quiet and secluded guest suite for a midday siesta and relax before your next adventure.
We can't wait to host you in Santa Fe; book today!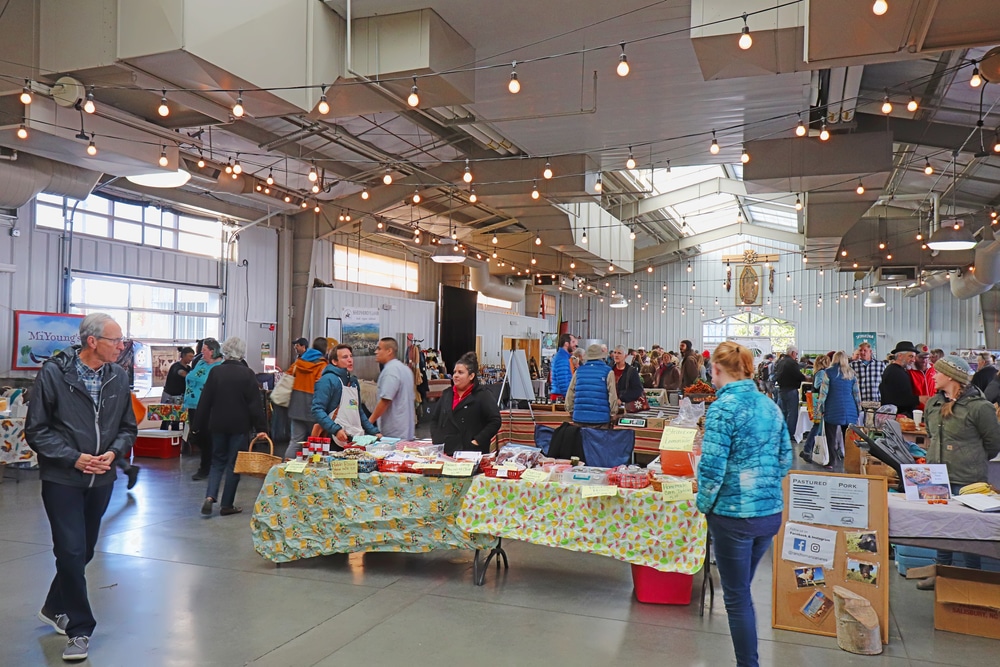 Head to the Hyper-Local Santa Fe Farmers Market
The first iteration of the Santa Fe Farmers Market began in the 1960s with a group of local farmers selling produce out of the back of their trucks. Since then, the market has come a long way, now located in a permanent home at the Santa Fe Railroad in a LEED-certified building and welcoming hundreds of thousands of visitors from around the world each year.
Here are the top five things not to miss at the Santa Fe Farmers Market:
The market is the ideal place to look for handcrafted gifts to bring home and souvenirs to commemorate your trip to Santa Fe. Local artists set up jewelry booths, bath and body products, and one-of-a-kind arts and crafts. If for some reason, you don't make the Saturday Market, the Railroad Artisan Market on Sunday is also an ideal stop to find unique items from clothing and tapestries to sculptures and paintings.
If you're lucky enough to be visiting New Mexico near the green chile harvest, which is generally late summer to mid-autumn, you'll see vendors roasting the fresh Hatch chiles over an open fire. If you like the heat, there's something very memorable about savoring a freshly roasted green chile. The scent wafting through the air of the market is such a special treat!
Live music is another common occurrence at the Santa Fe Farmers Market that adds the perfect lively festive atmosphere. You never know what kind of performances or genres you'll discover as you explore the stalls and open-air booths.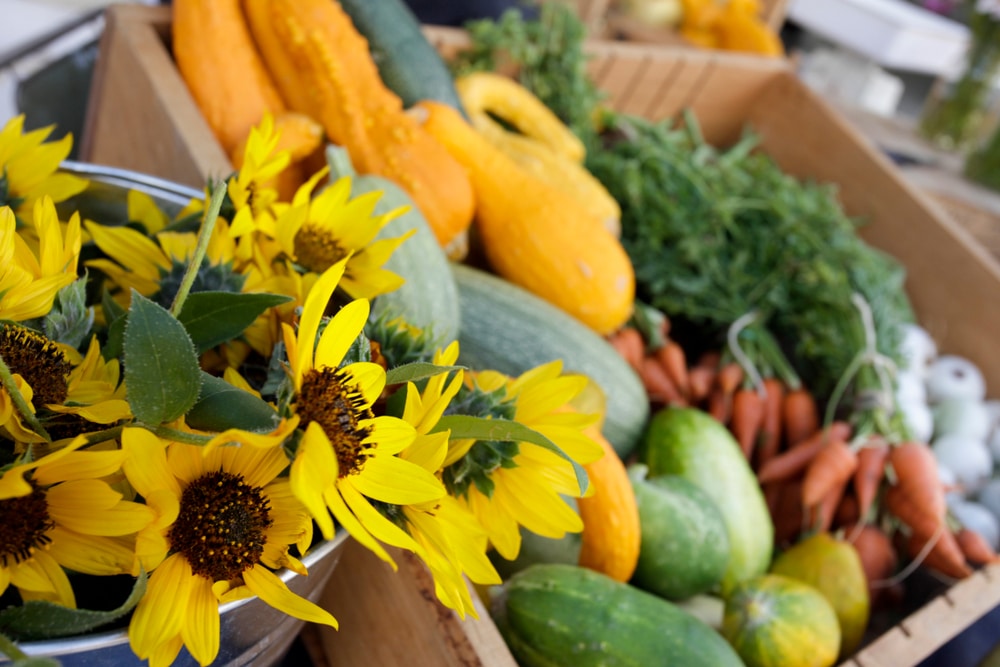 Bright and fresh flowers and locally grown produce are among the biggest draws for locals and tourists to the Santa Fe Farmers Market. There's a common motto in Santa Fe to eat seasonally—you'll see this on menus at the restaurants around town, as well as in our daily breakfast service items at the Inn. As we move into the spring and summer months, more fruits and veggies become available. It's always a lovely treat to bring back a fresh bouquet to enjoy in your suite!
The Santa Fe Farmers Market is a great place to have lunch. From the fresh-baked bread and pastries at Cloud Cliff Bakery or local treats and lattes at the Santa Fe Market Cafe. The Santa Fe Farmers Market operates every Saturday year-round, with a Tuesday market May to November, as well as the Railroad Artisan Market on Sundays at the Farmers Market Pavillion.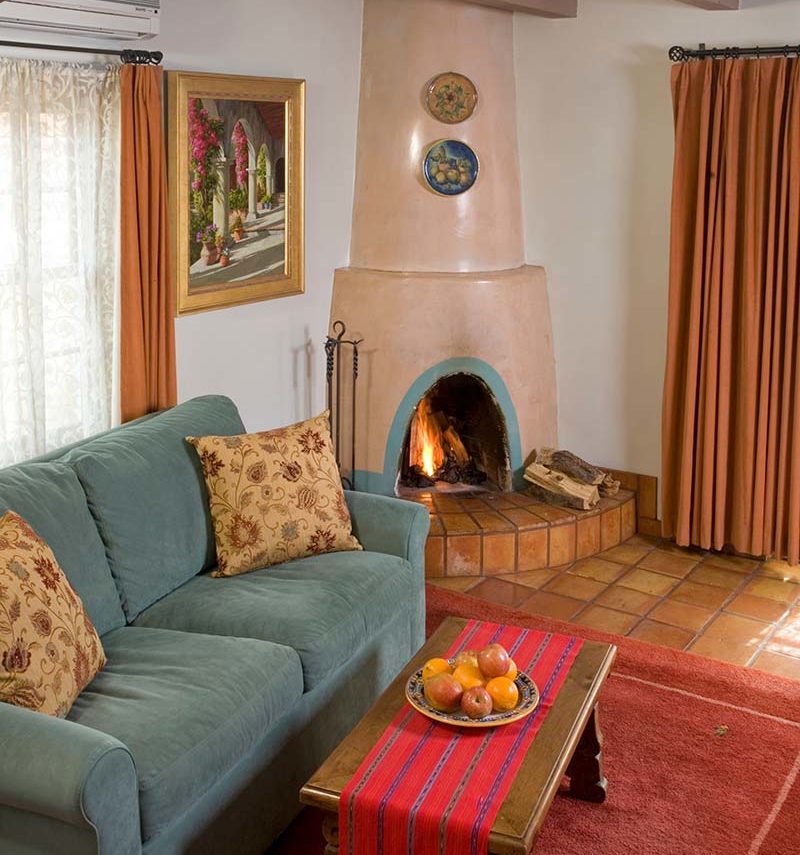 Comfortable Lodging at our Santa Fe B&B
Visting the Santa Fe Farmers Market is an authentic New Mexico experience, which is parallel to the feeling you'll have when arriving at our Santa Fe Bed and Breakfast. We strive to create the most welcoming atmosphere with a focus on showcasing local arts, decor, and the culture and heritage of the Santa Fean people. Our eight suites all have the most comfortable of accommodations, cozy fireplaces, access to garden patio spaces, and private en suite bathrooms.
From the moment you check-in, you'll see why our Santa Fe Bed and Breakfast has been recognized by TripAdvisor with the Certificate of Excellence award for ten years running. As a Select Registry property, you can rest easy knowing that a relaxing and restful stay is ahead of you. Our amazing innkeepers and staff pay attention to every detail, from the scrumptious breakfast each morning to any extra treat you'd like in your room or delivered to your suite during your stay.
Start planning your next getaway to Santa Fe and book today!