One of the coziest times to visit our Santa Fe Bed and Breakfast is in winter. The weather does swing into the colder temperatures, especially at night, but we're known for sunshine year-round, so even on crisp days, you'll still need your sunscreen. The bright, sunny climate is the biggest draw for those wanting that blast of vitamin D to get them through the dark winters in the colder areas of the country.
From the moment you cross the threshold into our Santa Fe Bed and Breakfast, you'll feel the warmth from the traditional adobe architecture, lush garden areas, and a soothing color palette. Located in the heart of downtown, within walking distance to many galleries, shops, and restaurants of Santa Fe, you'll be directly adjacent to all of the activity but feel secluded in our serene and private Inn.
Our Santa Fe Bed and Breakfast offers eight artfully appointed guest suites and casitas for quiet and relaxed lodging. Each room has a Kiva-style fireplace stocked with firewood from October to May (the Santa Fe Suite features a gas fireplace) and creates the perfect cozy ambiance for a winter retreat. Check our availability and book your next trip to Santa Fe today!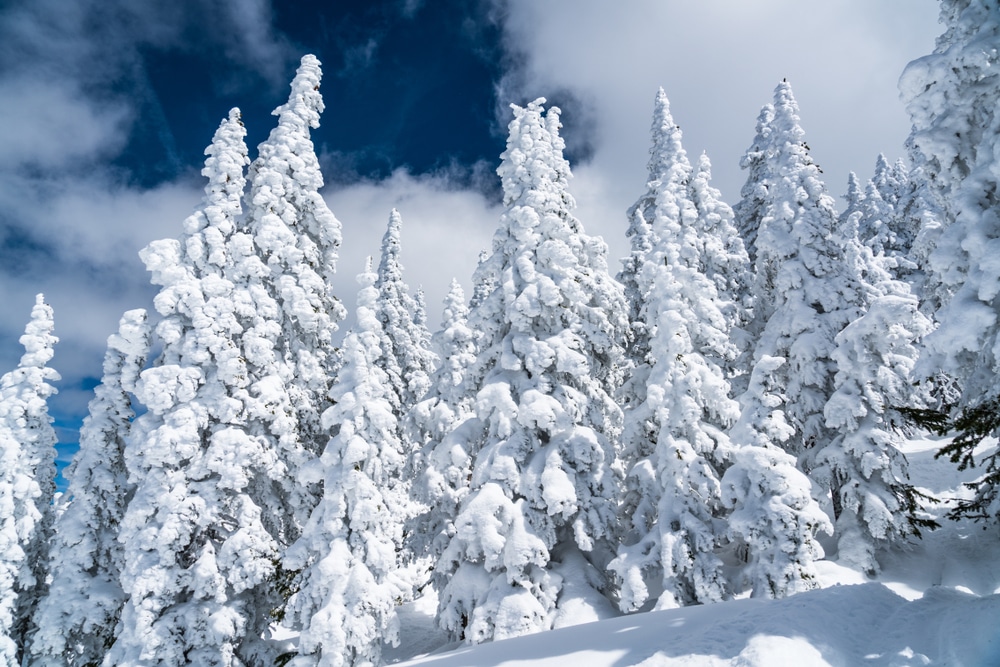 Enjoy Winter at our Santa Fe Bed and Breakfast
There are so many things to do in Santa Fe! From museums and famed art galleries to excellent dining options for local, flavorful cuisine, your vacation here will be memorable. Also, we're only about 30 minutes away from Ski Santa Fe, a popular pastime in the winter months. After getting settled into our Santa Fe Bed and Breakfast, you'll be ready to explore.
Here are five reasons our Santa Fe Bed and Breakfast is the perfect lodging for wintertime in New Mexico:
Our adobe-walled grounds offer the perfect respite from the hustle and bustle of everyday life. Weave your way from our beautiful front gate through our courtyard, with pathways leading through the garden leading to our eight guest suites and casitas. Find private sun-dappled patios with seating for a quiet moment in the fresh air. Please take advantage of our shared space in the main house for cozy reading nooks, crackling fires, and complimentary beverages and snacks.
As a Select Registry property, our Santa Fe Bed and Breakfast stands out as a special place to call your home away from home. Our eight guest suites are all unique, with their own layout, theme, and appointments. We love to represent the heritage and cultures of Santa Fe through art and decor; you'll find works from the local and national artists and antique showpieces worth admiring.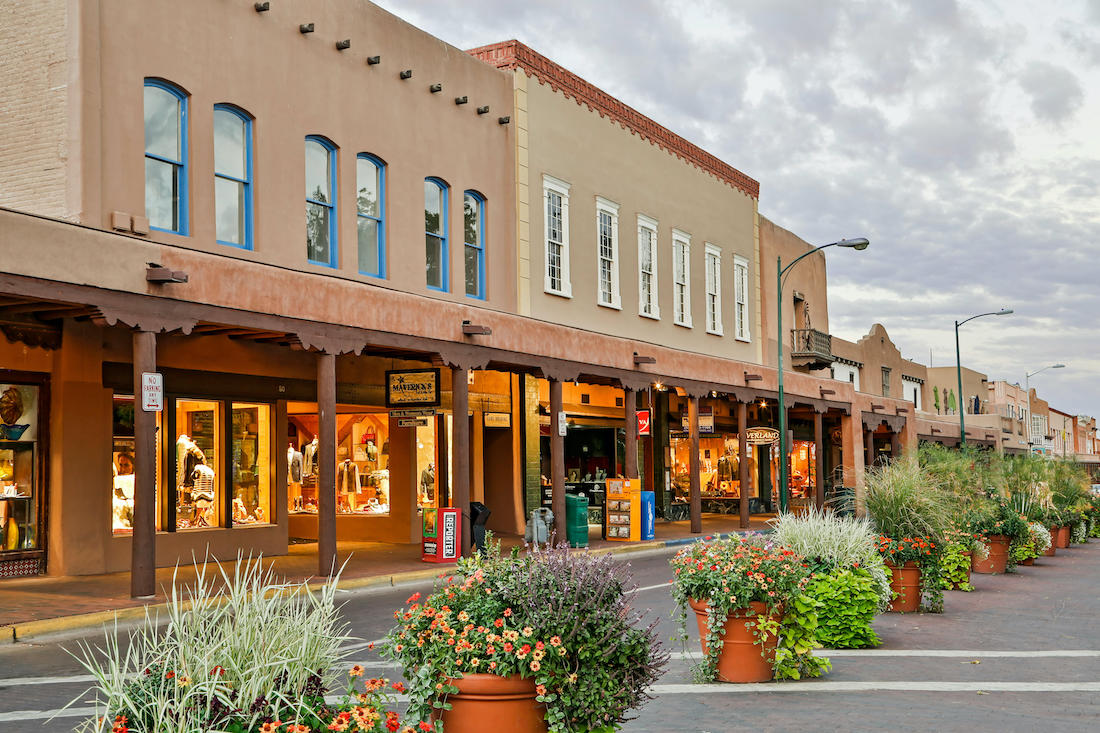 We're located in the heart of downtown Santa Fe, within walking distance to many of the leading local attractions. One of our favorite places in the world is the historic Santa Fe Plaza; the 10-minute stroll from our Inn takes you through quaint neighborhoods with charming boutiques and cafes nestled on each block. In the winter, bundle up, grab a hot latte, and take in the sights.
Every guest suite is full of modern amenities and creature comforts to make the most relaxing stay. Kiva fireplaces warm up your room in the fall and winter months. Private baths with rustic features and hand-painted tile work are equipped with fluffy towels and comfy robes. King and queen-sized beds are enrobed in luscious linens and offer the best place to lay your head after an adventure in Santa Fe.
One of the best things you'll experience as a guest at our Santa Fe Bed and Breakfast is our bountiful morning breakfast buffet. Each meal includes warm baked goods, a sweet or savory hot entree, fresh fruit, and beverages. Enjoy your steaming cup of coffee and breakfast in our dining room or back in the privacy of your own suite.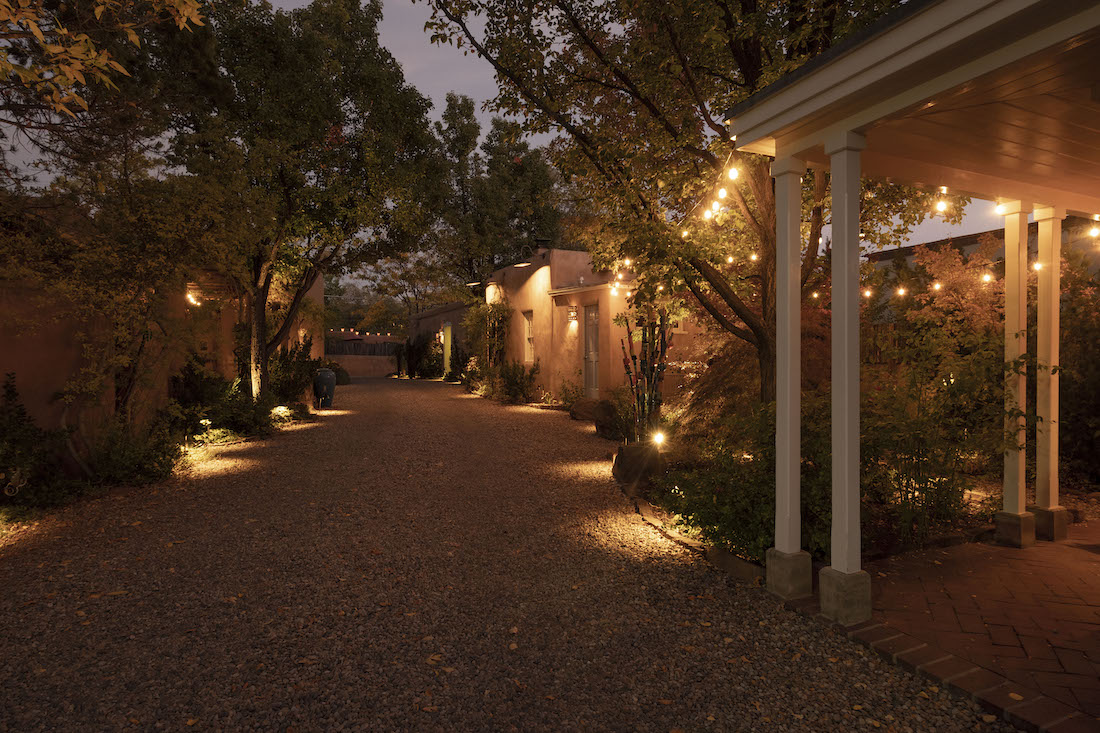 Elegant Lodging at Our Bed and Breakfast in Santa Fe
We pride ourselves in our welcoming hospitality and knowledge of the Santa Fe area. We're more than happy to help with dinner reservations or answer any questions you might have about the things to do during your stay. But most importantly, come expecting to feel relaxed and rejuvenated.
Make sure to let us know if you're celebrating a special anniversary or event on your vacation with us. We offer a host of add-on perks that can be awaiting your arrival in your suite, from Champagne and flowers to gift baskets and sweets. If there's something you're hoping for, just ask! We love to accommodate special requests whenever possible. Join us this winter and book your next stay in Santa Fe today!