Hiking in Santa Fe is actually quite a popular pastime, as there are hundreds of miles of beautiful trails in and around our lovely city. You'll find some of the most stunning views and landscapes, excellent bird watching opportunities, and overall just a ton of open space for fresh air and exercise. Hiking in Santa Fe should definitely be on your itinerary on any vacation in New Mexico.
Santa Fe is located in the Rio Grande Valley at the foot of the Sangre de Cristo Mountains. While the city center is densely populated, the surrounding natural areas remain undisturbed and pristine, perfect for those who love to explore the wilderness. Fall is the ideal time to visit Santa Fe, as far as weather is concerned (300 sunny days per year!) the dry high desert climate cools to a perfect range during the day on average in the mid to low 70s.
Our Santa Fe Bed and Breakfast is centrally located, near the city center and all of the best things to do downtown. Thankfully, we're also not far from the trailheads and nature areas to find the ideal outdoor adventures. The relaxing and serene atmosphere at our Inn is the ultimate retreat, especially after a day stretching your legs hiking in Santa Fe. Start planning your next vacation to Santa Fe and book a room at El Farolito Bed and Breakfast today!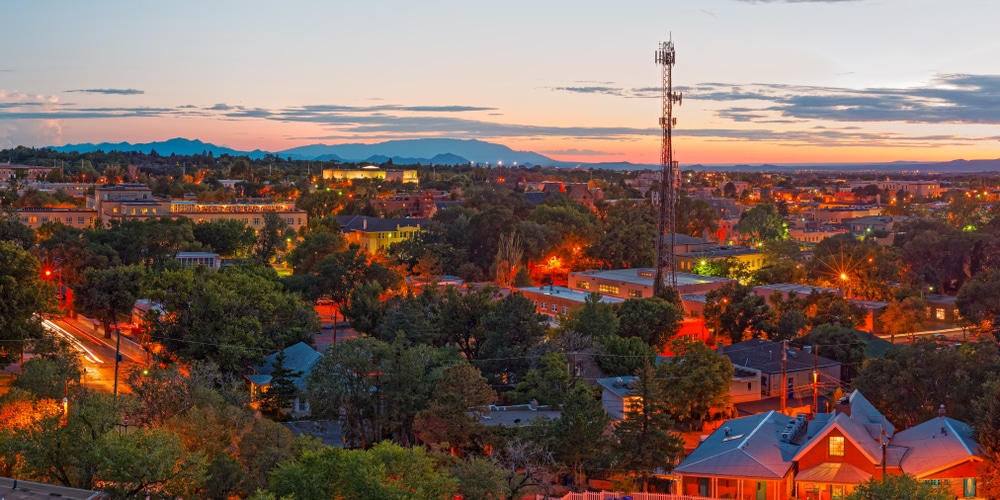 Check Out these Trails for Hiking in Santa Fe
As a guest at our Santa Fe Bed and Breakfast, you'll find that we're very close to some of the best trailheads near the city. The Atalaya Mountain area, Hyde Memorial State Park, and other popular areas for hiking in Santa Fe are within 30 minutes from the front door of our Inn. A few further out options are well worth the scenic drive, too!
Here are five areas for hiking in Santa Fe or just outside the city:
Santa Fe National Forest: The choices for hikes at this national forest are plentiful. There's an option for every skill level, so whether you're just getting into the sport or a seasoned professional, this a great place to explore. The Grasshopper Canyon Trail is a popular pick, clocking in at 3.1 miles, it's a moderate hike through beautiful forest and glens.
Atalaya Mountain Trail: This trail system is within the Santa Fe National Forest. It's popular for the stunning panoramic views from scenic outlooks. The forested trail is considered moderate due to the elevation gain, but there are options for less steep routes as well.
Dale Ball Trail System: There's more than 25 miles of trails for hiking in Santa Fe for those who want to explore the Sangre de Cristo Mountains. All skill levels will find a trail suitable here for day hikes. This trail system also connects to many other popular options for hiking in Santa Fe, like La Piedra, Little Tesuque, the Santa Fe Canyon Preserve, and the Atalaya Trails.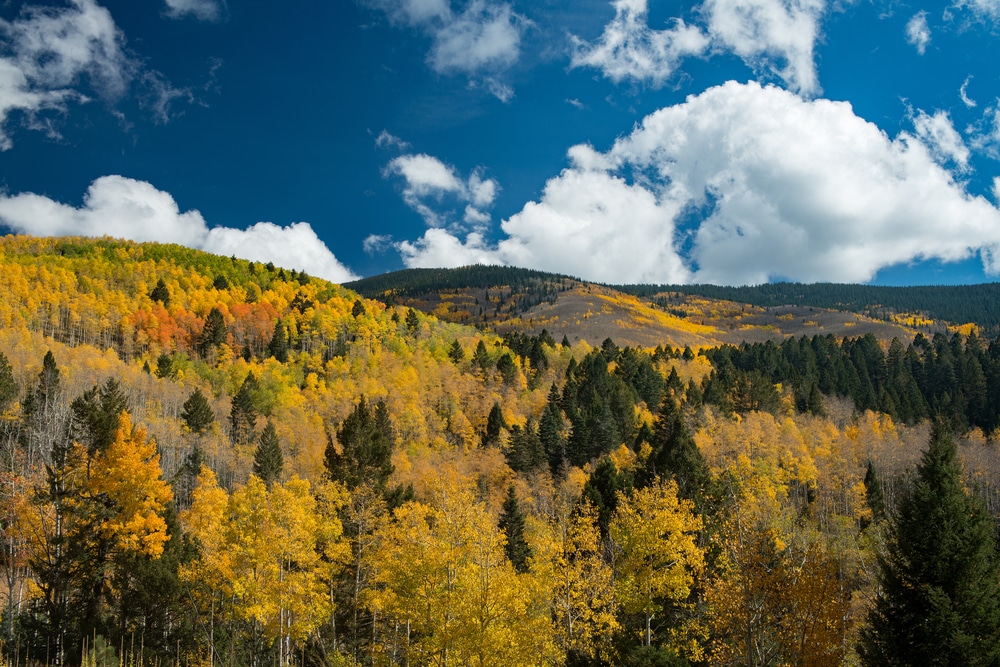 Hyde Memorial State Park: Located only eight miles from Santa Fe in the Sangre de Cristo Mountains, this state park (pictured above during fall) is a popular destination for hiking in Santa Fe year-round. There are five trails ranging from short and easy to a bit longer and through more rugged territory.
Bandelier National Monument: This iconic area is bit further away from downtown Santa Fe, but it's well worth the drive. There are more than 70 miles of hiking trails here. You'll find hikes that lead to the ancestral Pueblo homes, the Bandelier Museum, and waterfalls and steams. The Main Loop Trail is 1.2 miles and takes you by many of the important landmarks at the monument.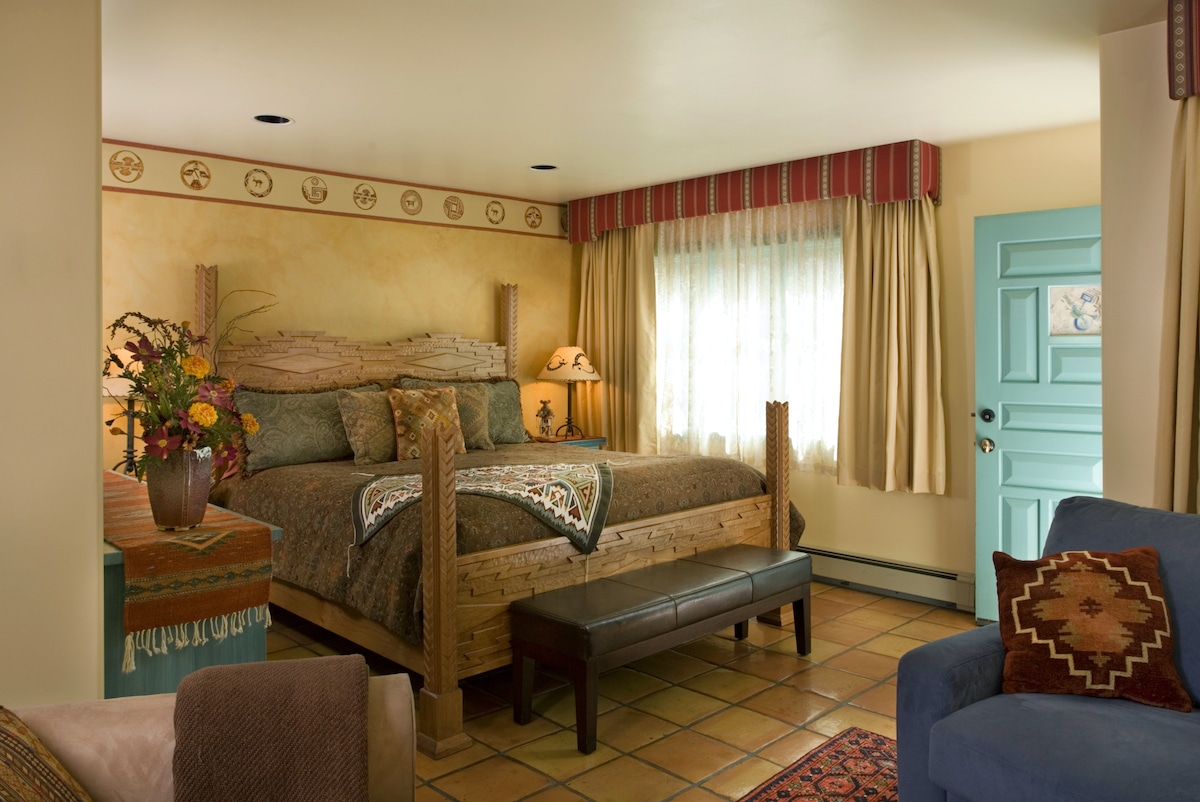 Stay at our Beautiful Santa Fe Bed and Breakfast
Fall isn't just an ideal time for hiking in Santa Fe, it's also the perfect time for a getaway to our Santa Fe Bed and Breakfast. A special touch at our Inn is that every guest room has a cozy fireplace (seven out of the eight are wood-burning!) This makes the chilly autumn nights comfortable and romantic. Our suites are also each unique with traditional and regional decor which you won't find at the bigger local chain hotels.
The Galisteo Suite has its own outdoor entrance with sunny views of a private walled garden. With Native American decor, luxury linens and toiletries, and seating area by the kiva fireplace you'll be transported in style to Santa Fe living. Join us each morning for a generous breakfast buffet with delicious and healthy choices for starting your day off right.  Book your next trip to Santa Fe today!