The Loretto Chapel in downtown Santa Fe is a striking example of Gothic Revival architecture that originated in England in the mid-1700s. This style is known for intricate stained-glass windows, spires, and buttresses. One spectacular design detail that the Loretto Chapel is known for is called the "Miraculous Stair," a beautiful spiral staircase leading up 20 feet to the choir loft.
Formerly a Roman Catholic church, the Loretto Chapel now serves as a museum and wedding venue in downtown Santa Fe. It's one of six old historical churches in the area, which could all be seen in one day on about an hour's long tour in under two miles on foot. Downtown Santa Fe is best explored without a car, which is one of the nice perks about lodging at our luxury bed and breakfast, El Farolito. Our location in downtown with ample parking is a perfect home base for your explorations.
Our Santa Fe Bed and Breakfast features original Native American, Spanish Colonial, and regional art throughout the Inn and locally handcrafted furnishings, all highlighted by traditional New Mexican adobe architecture. While honoring this area's rich past, you'll find all the modern amenities needed for the most comfortable and relaxing stays. All eight guest rooms have private entrances, adjacent garden patios, and en suite baths.
Join us in Santa Fe and book your next getaway today!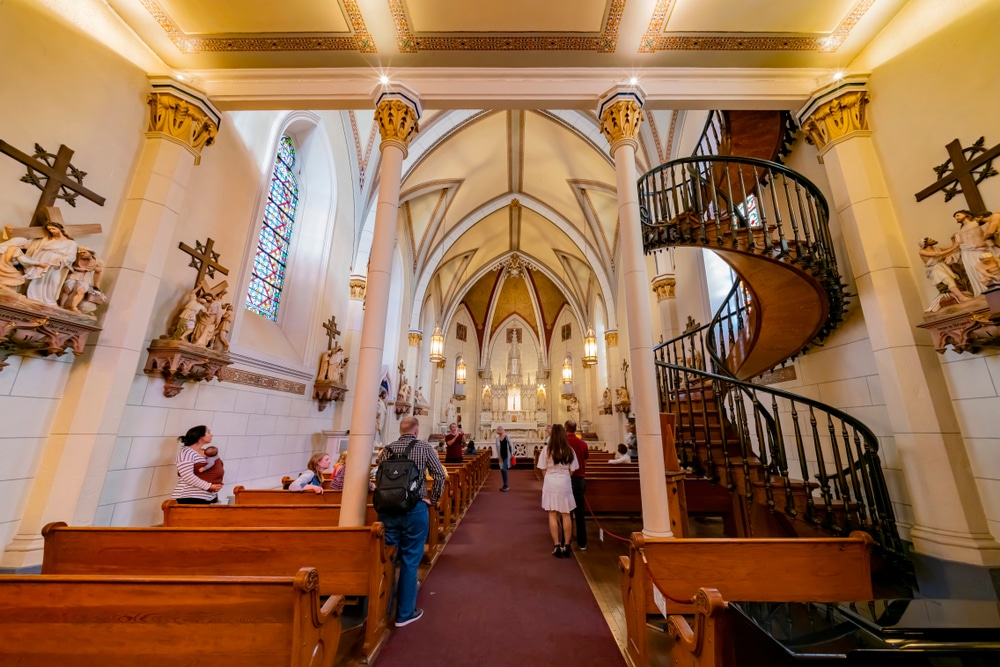 Tour the Loretto Chapel & More Old Churches
Exploring the old churches like Loretto Chapel in downtown Santa Fe is a lovely way to take in the history and architecture of the area. The downtown area is super walkable, so we suggest leaving your car at the Inn and making a day of it. Stop off at one of the fantastic Santa Fe restaurants along the way!
Here are six old churches in Santa Fe not to miss:
Loretto Chapel: The beautiful Gothic Revival church is now home to a museum open for visitors. On a tour here, you'll find an audio tape with the Loretto Chapel's history. And be sure to take a shot for Instagram on the famed spiral staircase.
Cathedral Basilica of St. Francis of Assissi: This Roman Catholic cathedral is located downtown and is the home of the Archdiocese of Santa Fe. It was designed in the Romanesque Revival style with Corinthian columns, round arches, and two square towers.
Santuario de Guadalupe: Translating to "Shrine of our Lady of Guadalupe," this building was completed in the 1770s. Today the Shrine is a history and art museum with a collection from The Archdiocese of Santa Fe, including Italian Renaissance and Mexican baroque paintings on display.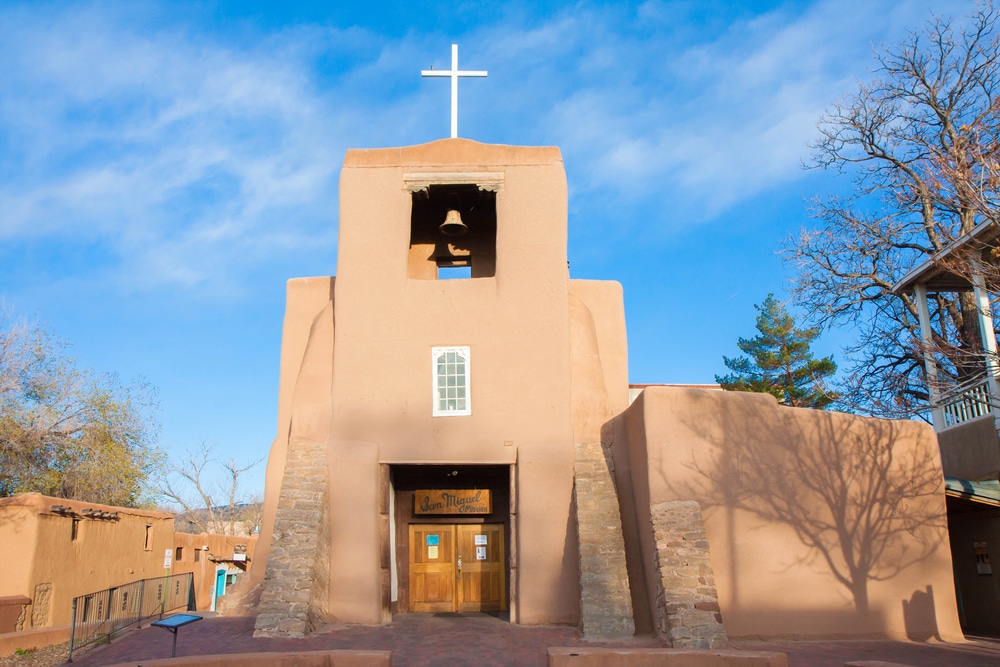 San Miguel Mission: This ancient church (pictured above) was built in 1610, making it one of the oldest structures in all of the United States. While this church still offers English and Latin Mass on Sundays, visitors are welcome to peak at the adobe architecture, artwork, and relics from the past inside.
Holy Faith Episcopal: As the oldest Episcopal church in New Mexico, this structure was completed in 1882. The design is folk gothic, similar to many English cathedrals of the 13th century.
Scottish Rite Masonic Temple: The bright pink of this old church, built in the Moorish Revival style, most definitely stands out from the other structures in Santa Fe.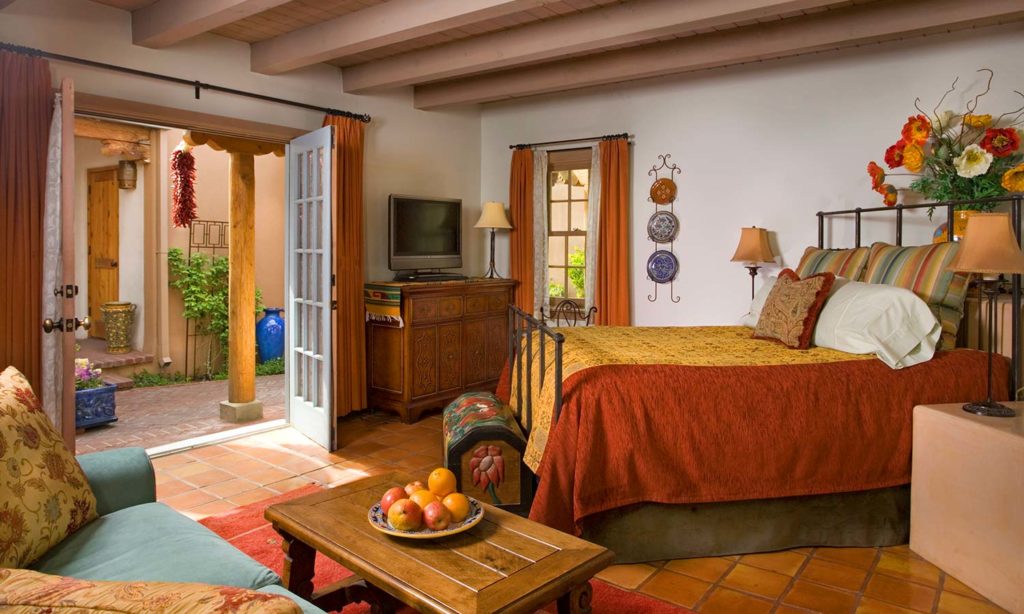 The Best Place to Stay in Santa Fe
Our eight guest rooms and suites come in various sizes and styles that can accommodate large family getaways or romantic trips for couples. You can choose from a shared or private room with a king or queen-sized bed—we have something for everyone. We even offer pet-friendly options, so there is no need to leave your furry companion at home. All of our rooms come equipped with modern amenities, including flat-screen TVs, Wi-Fi, cozy fireplaces, en suite bathrooms, and more. And be sure to join us each morning for a beautiful and authentic breakfast, included with your stay.
For those heading to Santa Fe with touring attractions like the Loretto Chapel and the other old churches, you're in luck! We're the ideal place to enjoy all the activities in downtown Santa Fe. Book today!